WHO FRISKMELDER FETISJISTER OG BDSM-ERE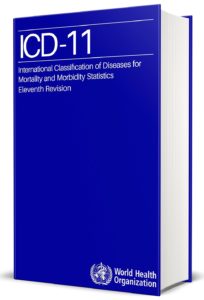 Verdens helseorganisasjon (WHO) følger de nordiske land og fjerner samtykkende seksuelle minoriteter fra den internasjonale sykdomslista. 8 år etter at Fetisjisme, Transvestistisk Fetisjisme og Sadomasochisme ble fjernet i Norge følger verdenssamfunnet etter. 
(tekst oppdatert 5.5.2019)
FORSKNING OG POLITIKK: Bakgrunnen for at Verdens helseorganisasjon 18.6.2018, i tråd med anbefalingene fra Revise F65, fjerner Fetisjisme, Transvestisk Fetisjisme og Sadomasochisme som psykiatriske lidelser, er "fremskritt i forskning og klinisk praksis, betydelige endringer i samfunnets holdninger, helsepolitiske vedtak og menneskerettighetsstandarder."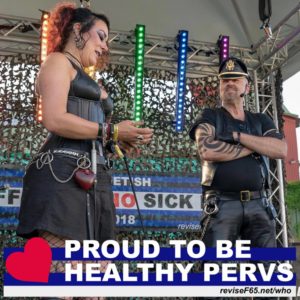 SM ER IKKE VOLD: Den nye ICD-klassifikasjonen skiller (for første gang), i tråd med Revise F65s anbefalinger, klart mellom BDSM og skadelig vold og overgrep.
PRIVATE FORHOLD: WHOs nye ICD-11-klassifikasjon betrakter fetisjisme og sadomasochism/bdsm som private forhold der behandling verken er indisert eller ønsket.
NORMALVARIANTER: Den nye ICD-11-klassifikasjonen betrakter fetisjisme og sadomasochisme som normalvarianter på linje med homoseksualitet som ble friskmeldt i 1990.
DISKRIMINERING: Videre fremgår det at psykiatriske diagnoser ikke lenger kan brukes til å trakassere eller diskriminere fetisjister og bdsm-ere. WHOs arbeidsgruppe for klassifisering av seksuelle sykdommer og seksuell helse innrømmer at psykiatriske diagnoser har blitt misbrukt til å stigmatisere og diskriminere fetisjister og bdsm-ere.
MENNESKERETTIGHETER: Videre fremgår det at stigmatisering og diskriminering av fetisjister og bdsm-ere ifølge ICD-11 er i strid med menneskerettighetene vedtatt av FN og Verdens helseorganisasjon.
Dette er informasjon fra WHOs arbeidsgruppe som vedtok friskmeldingen av fetisjister og bdsm-ere (fetisjisme og sadomasochisme).
https://www.ncbi.nlm.nih.gov/pmc/articles/PMC5487931
https://www.ncbi.nlm.nih.gov/pmc/articles/PMC5032510
Milepæl
– Dette er en milepæl i arbeidet for menneskerettigheter og for seksuell frigjøring, sier Ingvild Endestad, leder i FRI, Foreningen for kjønns- og seksualitetsmangfold. Samtykkende seksualitet har ingenting i psykiatrien å gjøre. Dette er en enormt viktig anerkjennelse av det seksualitetsmangfoldet som finnes blant oss, fortsetter hun.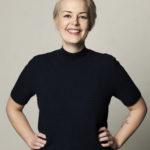 Endestad gir Svein Skeid og FRIs utvalg Revise F65 mye av æren for seieren. Gruppens menneskerettigheter er del av det faglige grunnlaget for revisjonen der anbefalingene fra FRI i sin helhet er tatt til følge.
Arbeidet med å avskaffe fetisj- og bdsm-diagnosene har vært del av FRIs og tidligere LLHs arbeids- og prinsipprogram siden 1996. Etter over 20 års lobby- og informasjonsarbeid har FRIs diagnoseutvalg Revise F65 med Svein Skeid i spissen oppfylt sitt mandat om både nasjonal (2010) og internasjonal friskmelding.
– Opphevelsen av fetisjisme, fetisjistisk transvestisme og sadomasochisme som sykdomsdiagnoser kan føre til at disse gruppene vil kunne nyte samme frihet og selvrespekt som andre skeive. Revisjonen av ICDs F65-kapittel kan også gjøre det lettere å fremme forskning, avskaffe anti-bdsm-lover og muliggjøre lovregulert vern mot diskriminering for gruppen.
Grensesprengende pionérarbeid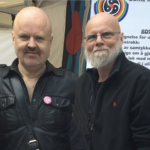 – Danmark, som fjernet sadomasochisme fra sin nasjonale sykdomsliste i 1995, var vår inspirasjonskilde, sier leder i Revise F65, Svein Skeid. Skeid og psykolog Odd Reiersøl startet et grensesprengende arbeid på tvers av landegrenser og seksuell orientering der dusinvis av aktivister, organisasjoner og fagfolk bidro.
– Det är väldigt viktigt för de här individerna att samhället erkänner dem som fullvärdiga medborgare, uttalte generaldirektør i Socialstyrelsen, Lars-Erik Holm til Dagens Nyheter 17. november 2008 da de tre diagnosene ble fjernet i Sverige.
– Jeg hørte nyheten på radioens p4 og forsto at friskmelding også kunne være innen rekkevidde i Norge, forteller Skeid.
– Jeg hadde nettopp vært i Stockholm under Europride og gitt RFSU våre argumenter. Jeg ble svært rørt over generaldirektørens erklæring: "Socialstyrelsen vill med den här förändringen understryka att det här är beteenden som inte är sjukdomar och inte heller är perverst".
Den nordiske modellen
– I løpet av seks år ble diagnosene avskaffet i hele Norden etter norsk mønster og pionérarbeidet til Diagnoseutvalget Revise F65, forteller psykolog Odd Reiersøl. Dermed økte presset på Verdens helseorganisasjon som hadde startet arbeidet med å revidere ICD-10. Diagnoseutvalget fikk etter hvert direkte kontakt med de ansvarlige i Geneve.
På oppdrag fra Senior Project Officer Dr. Geoffrey Reed, som ledet revisjonen av WHOs liste over mentale sykdommer, oversendte Revise F65 i 2009 en tre siders rapport som dokumenterte at de tre diagnosene er utdaterte, uvitenskapelige og stigmatiserende.
Dr. Reed ønsket ytterligere informasjon og 11. november 2011 leverte Revise F65 en 50 siders litteraturgjennomgang med forskningsbasert kunnskap som dokumenterte at sadomasochisme og vold er to ulike fenomener. Blant annet skårer fetisj/bdsm-gruppen likt med befolkningen forøvrig på demokratiske verdier som empati, likeverd og likestilling.
Allerede dagen etter meldte Dr. Reed at timingen var perfekt fordi revisjonskomiteen snart skulle ha sitt første møte der rapportene ville bli behandlet.
18. juni 2018 fjernet WHO de tre diagnosene globalt. Alle anmodninger fra Revise F65 ble tatt til følge i den nye oppdaterte versjonen av ICD-11, fordi diagnosene Fetisjisme, Transvestisk Fetisjisme og Sadomasochisme, ifølge WHOs arbeidsgruppe for Seksuelle Sykdommer og Seksuell Helse, ikke er "relevant to public health and clinical psychopathology" but "merely reflect private behaviour". Disse vesentlige endringene er, ifølge WHO, "based on advances in research and clinical practice, and major shifts in social attitudes and in relevant policies, laws, and human rights standards".
https://www.ncbi.nlm.nih.gov/pmc/articles/PMC5032510/
Kodeverket tas i bruk umiddelbart, mens endelig versjon vedtas i 2019 etter tekniske tilbakemeldinger fra medlemslandene. Struktur, koding og øvrig materiale, vil ifølge WHO forbli uendret etter implementeringen i juni 2018.
#revisef65 #proudtobeahealthyperv #offthesicklist #nomoresickfilth #gear365 #FIGHT #proudperverts #healthyperverts #leatherpride #beyourself #beproudofwhoyouare #fetishpride
SE OGSÅ FETISH AND BDSM TIMELINE: https://revisef65.net/2018/07/12/fetish-and-bdsm-timeline
Fakta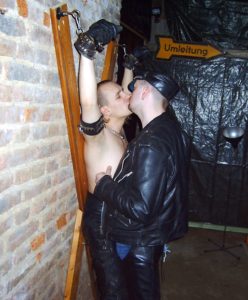 * BDSM er en seksuell orientering som dreier seg om frivillig å dominere andre eller selv å bli dominert eller frivillig gi eller bli påført smerte.
* Seksuell fetisjisme er seksualitet der konkrete gjenstander, handlinger eller ideer gir seksuell tenning og nytelse.
* Retten til å bestemme over egen seksualitet og retten til privatliv har vært grunnleggende i arbeidet for å fjerne homofili og deretter fetisjisme og sadomasochisme som sykdomsdiagnoser.
* FRI satte i 1997 ned et utvalg for å drive arbeidet med avdiagnostisering. I 2010 ble fetisjisme og sadomasochisme tatt ut av sykdomslisten I Norge. I 2018 skjedde det samme i WHOs liste.
Ingvild Endestad er leder i FRI, Foreningen for kjønns- og seksualitetsmangfold. Epost: ingvild@foreningenfri.no. Telefon: 97 56 22 95 (kun presse).
Svein Skeid er initiativtager og leder av FRIs Diagnoseutvalg Revise F65. Han er prisbelønnet for sitt arbeid med homofiles og bdsm-eres menneskerettigheter gjennom 30 år. Han er offentlig godkjent fysioterapeut med videreutdanning innen psykiatrisk orientert fysioterapi. Epost: sskeid@online.no. Mobil: 95 80 29 85.
Odd Reiersøl er en erfaren norsk psykolog som i 30 år har hjulpet mennesker med å godta seksualiteten sin, blant annet med individual-, par- og gruppeterapi, samt utdanning av andre fagfolk. Epost: solverv@solverv.com. Mobil: 94 03 46 88.